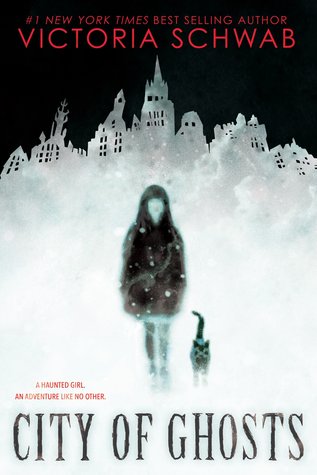 (Image from goodreads.com)
---
Publish Date: August 28, 2018
Summary (from goodreads.com): Cassidy Blake's parents are The Inspectres, a (somewhat inept) ghost-hunting team. But Cass herself can REALLY see ghosts. In fact, her best friend, Jacob, just happens to be one.
Review: This is exactly the kind of book I would have loved to read as a kid. International travel, ghosts both friendly and malignant, and a snarky best friend make it the kind of story that is both familiar and foreign, comforting and unsettling. For anyone already in love with Scotland–as Schwab clearly is–the descriptions of Edinburgh and its lore are like delicious, creepy candy. And those who are new to the area–like Cass–will be enchanted and intrigued by the vivid descriptions and centuries of history that not only provide an immersive setting for the novel but also weave inextricably throughout its plot and characterization.
This is an eerie–even scary–story, depending on the reader's tolerance for the genre, but it is much more about humanity than horror. The main character, Cassidy, has been dead before, but she doesn't take death lightly. Her best friend, Jacob, is still dead, but would risk his life for her if necessary. Cassidy's parents are as loving as they are eccentric, and even new acquaintances thread their way into the network of support that gets her through tough times.
As the first book in a series, City of Ghosts takes some time to set the stage, so to speak. Schwab has invented a unique, truly creepy kind of in-between world where those with unfinished business get caught reliving their own death in a never-ending cycle. The first few chapters are dedicated to the setup for this world, as well as the backstory explaining Cassidy's special ability to enter it. It isn't until about sixty pages in that we actually arrive at the titular Edinburgh. Though all of this exposition is incredibly well-done and enjoyable to read, it pushes the arc of the story back a little bit. I don't know how many books will be in the completed series (hopefully a lot!), but I imagine that now that the world has been built, the rest of the books will move more quickly from the start.
Schwab has set up a charming concept for her series–a girl who can actually see ghosts traveling around the world with itinerant ghost-hunting parents who can only dream of having her ability–and she follows through with a first adventure that is both haunting and heartwarming. Middle grade readers will love the smart but goofy characters and the creepy locations, and they will eagerly await the sequel as questions surrounding Cassidy's ability and what it will mean for her friendship with Jacob are only beginning to surface. City of Ghosts introduces an intriguing story and likeable characters, both of which only become more eerie and enigmatic as the book progresses, leaving the reader with chills up their spine and eagerly awaiting the next installment.
Favorite Line: Favorite Line to come after publish date.
Rating: 4/5